Keuka Breeze Restaurant & Bar
Sit back and enjoy the breeze.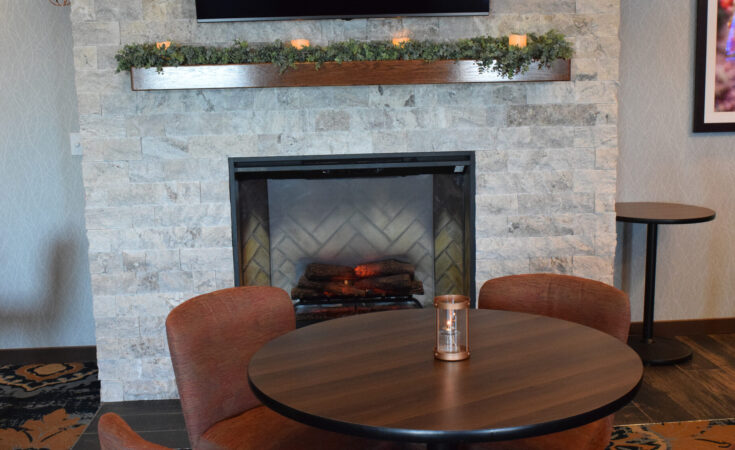 The Keuka Breeze Restaurant & Bar, located at the Hampton Inn by Hilton, Penn Yan, serves burgers, sandwiches, salads, and our signature cocktail, The Keuka Breeze. Take in the view of Keuka Lake from our elegant bar or enjoy the lake breeze from our rooftop patio seating.
Our full restaurant menu was created by our talented Executive Chef, and includes appetizers and desserts.
Beverage menu includes Finger Lakes wine and local craft beers. Family-friendly.
Breeze Menu
Appetizers
Outlet Channel Board
Local aged meats and cheeses, Kalamata olives, glazed mix nuts, house made hummus, house made naan bread, cucumber, red bell pepper and asparagus. Can be made vegetarian…$21
Finger Lakes Mussels
Local white wine braised mussels with chills, thyme and crème fraiche. Served with our hand cut fries…$14
Hand Breaded Buttermilk Fried Chicken Tenders
With your choice of Alabama White BBQ sauce or Buffalo (mild, medium or hot). Comes with celery sticks and a crumbly blue cheese dressing…$14
Keuka Mac and Cheese (v)
House made pasta, Gruyere and White Cheddar Béchamel with crispy seasoned bread crumbs, oven roasted…$10.95
Poutine
Tomato and stout braised beef short rib gravy, our hand cut fries and local mozzarella cheese curd…$16.95
Nachos
Pepper jack cheese, jalapeno, black olive, sour cream, guacamole and Pico de Gallo…$13
Add: Ground Beef $2; Grilled Chicken Breast $4; Chopped Steak…$6
Salads
Spring on the Lake (v)
Local spring mixed greens, asparagus, cucumber, goat cheese, toasted walnuts, roasted chickpea and avocado. Dressed with a tangy lemon vinaigrette…$12.95
Burrata Salad (v)
Locally grown tomatoes, Burrata cheese, peaches, cherries and toasted pistachio. Dressed with a citrus basil infused oil and sea salt…$15.95
Harvest Salad (v)
Mixed greens, apple, slivered almonds, golden raisins, dried cranberry and feta. Dressed with a Balsamic vinaigrette…$10.95
Sandwiches
Served with hand cut fries.
Breeze Classic Burger
8 oz hand pressed burger, chargrilled with American cheese, lettuce, tomato and red onion. Served on a toasted house made brioche bun…$13.95
Chefs Favorite Burger
8 oz hand pressed burger, chargrilled. Topped with tomato bacon relish, grilled pineapple and melted Havarti. Served on a toasted house made brioche bun…$15
Shrimp Po Boy
Hand breaded gulf shrimp, lettuce, tomatoes, red onion and
creole remoulade on buttered brioche roll. Served with beer battered, hand cut onion rings…$23.95
Chicken Bacon Ranch
Buttermilk fried chicken breast cutlet, thick cut smoked bacon, lettuce, tomato and ranch dressing on house made brioche bun…$13.95
Dinner Entrees
Served with house made focaccia and herbed olive oil.
Honey Bourbon Glazed Salmon
Grilled Atlantic salmon with a honey bourbon glaze. Served with tri-color quinoa, red bell pepper, carrot and kale…$23.95
Grilled Flat Iron Steak
10 oz flat iron steak, char grilled. Served with garlic mashed potato and oven roasted asparagus. Finished with a NY maple syrup and brown sugar compound butter…$23.95
Rigatoni Bolognese
House made rigatoni, Bolognese sauce, freshly grated parmesan…$17.95
Chicken and Broccoli Alfredo
House made pasta, alfredo sauce, grilled chicken breast and tender broccoli…$19
Desserts
All desserts made in-house. Ask your server about the dessert of the day…$8
Kids Menu
Ages 10 and under only.
Cheeseburger Sliders (2)
Hand formed patties with American cheese on toasted house made brioche buns. Served with our hand cut fries…$7
Popcorn Chicken
Hand breaded, buttermilk fried chicken nuggets with choice of ranch dressing or BBQ sauce…$7
Hot Dog
Grilled Hoffman hot dog on New England style hot dog roll. Served with our hand cut fries…$7.95