Keuka Breeze Restaurant & Bar
Sit back and enjoy the breeze.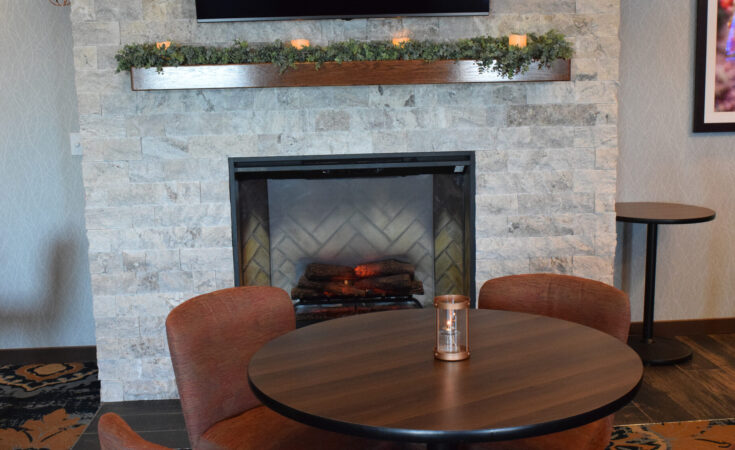 The Keuka Breeze Restaurant & Bar, located at the Hampton Inn by Hilton, Penn Yan, serves burgers, sandwiches, salads, and our signature cocktail, The Keuka Breeze. Take in the view of Keuka Lake from our elegant bar or enjoy the lake breeze from our rooftop patio seating.
Our full restaurant menu was created by our talented Executive Chef, and includes appetizers and desserts.
Beverage menu includes Finger Lakes wine and local craft beers. Family-friendly.
Spring Breeze Menu
Appetizers
Outlet Charcuterie Board
local aged meats and cheeses, toasted flatbread, hummus and our house made jalapeno jam…$18
Mussels
local white wine braised mussels with chilis, red bell pepper and crème fraiche. Served with our hand cut fries…$16
Fried Mozzarella
four hand breaded mozzarella rounds, pan fried and served with our house made marinara…$12
Nachos
tri-colour tortilla chips, tomato, red onion, shredded cheddar and pepper jack cheeses, fire roasted salsa, black olives, smashed avocado, and
sour cream…$16
Add Chicken $5    Add Ground Beef $4

Jumbo Shrimp Cocktail (G)
4 jumbo gulf shrimp with cocktail sauce and lemon…$18
French Onion Soup
slow roasted caramelized red and yellow onions in a savory broth of brandy, vermouth, beef stock and thyme. With house made herbed crouton, gruyere and parmesan cheeses…$13
Salads
Spring on the Lake (G)
local spring mixed greens, asparagus, radish, goat cheese, toasted walnuts, and avocado. Dressed with a tangy lemon vinaigrette…$12.95
Burrata Salad (G)
locally grown tomatoes, burrata cheese, strawberries, cherries and toasted pistachio on a bed of mixed greens. Dressed with extra-virgin olive oil and sea salt…$14.95

Sandwiches
Served with hand cut fries, ketchup and our house made breads
Breeze Classic Burger
8 oz. hand pressed burger, chargrilled with American cheese, lettuce, tomato, and red onion. Served on a toasted brioche bun…$14.95
Cowboy Burger
8 oz. hand pressed burger, chargrilled. Roasted jalapeno, thick sliced bacon, BBQ sauce, crispy onion straws and pepper jack cheese. Served on toasted brioche bun…$17.95
Italian Meatball Hoagie
house made meatballs in our own marinara sauce with mozzarella cheese and basil pesto on Italian hoagie roll…$17
Chicken Bacon Ranch Wrap
grilled flour tortilla, grilled chicken, thick sliced bacon, lettuce, tomato, red onion, and ranch. Served with sweet potato fries and honey…$14.95
Monte Cristo
country white bread, black forest ham, deli turkey, and gruyere dipped in French toast batter and grilled to a golden buttery brown…$15.95
Dinner Entrees
Served with garlic breadsticks – available after 4PM
Honey Bourbon Glazed Salmon (G)
grilled Atlantic salmon with a honey bourbon glaze. Served with oven roasted red potato and sautéed green beans…$28
Grilled NY Strip (G)
10oz. hand cut NY Strip, char grilled. Served with wild mushroom and parmesan risotto and sautéed asparagus…$32
Chicken and Andouille Scarpariello
house made rigatoni, pan roasted chicken and andouille sausage, potato, peppadew peppers and rosemary in a mild broth…$24
Chicken and Broccoli Alfredo
grilled chicken breast, broccoli, classic Alfredo sauce over house made linguini with freshly grated parmesan…$22
Grilled Pork Tenderloin (G)
maple-Dijon marinated grilled pork tenderloin, garlic mashed potato and oven roasted carrots…$26
Whole Roasted Stuffed Cauliflower  (V, G)
kale, scallion, Muenster, parmesan and pine nut puree piped into cauliflower head and then slow roasted to caramelized golden brown…$22
Kids Menu
Ages 10 and under only.
Cheeseburger Sliders
2 hand formed patties with American cheese on toasted brioche slider rolls. Served with our hand cut fries and ketchup…$9
Popcorn Chicken
hand breaded, buttermilk fried chicken nuggets with choice of
ranch or BBQ sauce…$9
Hot Dog
grilled Hoffman hot dog on New England style hot dog roll. Served with our hand cut fries and ketchup…$8
Desserts
All desserts made in house. $8
All to go orders at an additional $2 per order.
(Substitutions: Extra Sauces $0.75 | Sweet Potato Fries $2 | Swiss or Cheddar Cheese $1)