Keuka Breeze Restaurant & Bar
Sit back and enjoy the breeze.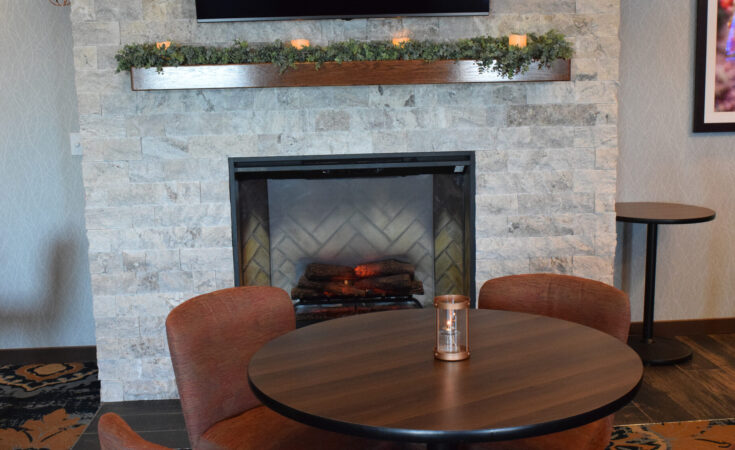 The Keuka Breeze Restaurant & Bar, located at the Hampton Inn by Hilton, Penn Yan, serves burgers, sandwiches, salads, and our signature cocktail, The Keuka Breeze. Take in the view of Keuka Lake from our elegant bar or enjoy the lake breeze from our rooftop patio seating.
Our full restaurant menu was created by our talented Executive Chef, and includes appetizers and desserts.
Beverage menu includes Finger Lakes wine and local craft beers. Family-friendly.
Winter Breeze Menu
Appetizers
Charcuterie Board
Local aged meats and cheese, toasted flatbread, hummus, and candied walnuts…$18
Calamari
Lightly floured calamari tossed in a white wine lemon garlic sauce with diced tomatoes, pepper rings, and green onions topped with a garlic aioli…$13

Chicken Wings
10 Jumbo wings fried or grilled with choice of sauce, served with celery and bleu cheese *Sauces BBQ, Mild, Medium, Hot, Teriyaki…$14
Vegetable Eggrolls
Assorted vegetables, fresh ginger, deep fried and served with a citrus Ponzu…$10
Braised Mussels
Beer braised mussels with andouille sausage, red peppers,green onions and a garlic baguette…$15

Onion Rings
On an onion ring stand with horseradish cream or chipotle ranch sauce…$10
Chef's Soup de Jour…$4.00 cup   $6.00 bowl
Salads
Keuka Salad
Spring mix, baby spinach, cucumber, grape tomato, red onion, and shredded carrot with choice of dressing…Side Salad $4   Dinner portion $12
Chopped Salad
Assorted mixed greens tossed with tomatoes, cucumber, red onion, bacon, hardboiled egg, and provolone…$16
Add chicken $6   Add salmon $11
Dressings: Ranch, Italian, Balsamic Vinaigrette, Blue Cheese
Sandwiches
served on a homemade toasted roll with French fries*

Breeze Classic Burger
8 oz. hand pressed burger, chargrilled with American cheese, lettuce, tomato and red onion…$15
Bacon Bleu Burger
8oz. grilled burger topped with Applewood smoked bacon, Bleu cheese, lettuce, tomato and red onion…$17
Pulled Pork Sandwich
House smoked topped with fresh coleslaw…$15
Ultimate Chicken Sandwich
Grilled chicken breast with BBQ sauce, Applewood smoked bacon, provolone cheese, lettuce, tomato and red onion…$14
Portabella Sandwich
Balsamic marinated grilled portabella mushroom stuffed with roasted red peppers, baby spinach, and goat cheese with lettuce, tomato and red onion…$14
*SIDES – in place of French Fries – Applesauce, Sweet Potato Fries, or Mac & Cheese…$2.25
Dinner Entrees
served with herb-crusted artisan bread and whipped butter
Choice NY Strip
Grilled 14oz. topped with caramelized onions and a garlic rosemary butter, smashed potatoes and fresh vegetable…$29
Atlantic Salmon
8oz. pan seared with a roasted shallot orange sauce over Jasmine rice and fresh vegetable…$25
Tuscan Chicken
Sautéed chicken strips in extra virgin olive oil with baby spinach, artichoke hearts and roasted red peppers tossed with rigatoni with parmesan cheese…$20
Lasagna Bolognese
Ground beef-pork-veal in our House marinara layered with pasta, ricotta, mozzarella cheese baked and seasoned with a garlic baguette…$19
Stuffed Meatloaf
House meatloaf stuffed with mozzarella, provolone, Romano, and parmesan over smashed potatoes and fresh vegetable…$18

Eggplant Napoleon
Breaded eggplant stacked with fresh mozzarella and fresh basil, served with our House marinara sauce, Balsamic drizzle and parmesan cheese…$18
Kids Menu
Ages 10 and under only
Cheeseburger Sliders
2 hand formed patties with American cheese on toasted brioche slider rolls served with French fries and ketchup…$9
Chicken Tenders
Choice of ranch or BBQ sauce…$8
Hot Dog
Grilled Hoffman hot dog on New England style hot dog roll served with French fries and ketchup…$7
Mac & Cheese…$8
Desserts
Please ask server about tonights desserts $8
All to go orders at an additional $2 per order.
(Substitutions: Extra Sauces $0.75 | Sweet Potato Fries $2.25 Swiss or Cheddar Cheese $1)