Keuka Breeze Restaurant & Bar
Sit back and enjoy the breeze.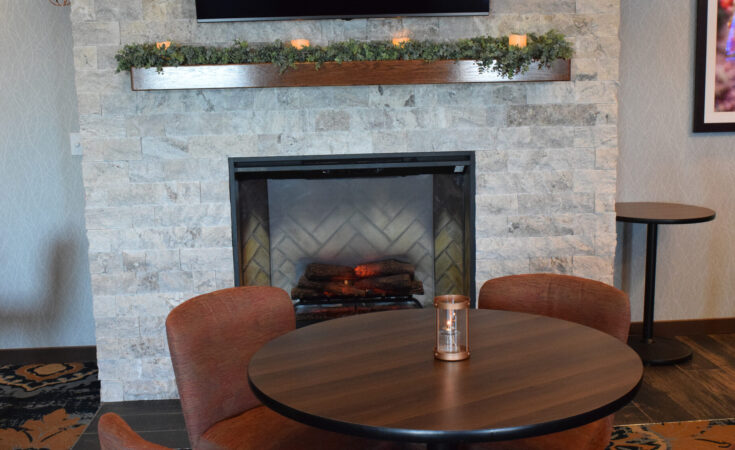 The Keuka Breeze Restaurant & Bar, located at the Hampton Inn by Hilton, Penn Yan, serves burgers, sandwiches, salads, and our signature cocktail, The Keuka Breeze. Take in the view of Keuka Lake from our elegant bar or enjoy the lake breeze from our rooftop patio seating.
Our full restaurant menu was created by our talented Executive Chef, and includes appetizers and desserts.
Beverage menu includes Finger Lakes wine and local craft beers. Family-friendly.
Keuka Breeze Menu
Starters
Farmstead Cheese & Charcuterie
Fig jam, pickles, grain mustard, Marcona almonds, crostini (vt)… $21
Warm Garlic Bread Sticks
San Marzano marinara, first press olive oil, sea salt (vt)… $7

Burrata
Roasted peppers, grilled Roman artichoke, first press olive oil, honey balsamic, grilled bread (vt)… $15
Steakhouse Creamed Spinach
Parmesan, house made potato chips (vt)… $11

Jumbo Chicken Wings
Buffalo, garlic parmesan or chipotle mango BBQ, celery, creamy gorgonzola (gf)… $14
IPA Beer Battered Onion Rings
Sriracha aioli & horseradish sauces (vt)… $9
Soups
Seasonal Soup of the Day… cup $5/bowl $9
Butternut Squash Bisque
Maple roasted pumpkin seeds, local apple cider reduction (vt, gf)… cup $5/bowl $9
Salads
Add to any salad: grilled chicken $7 / salmon $11
Market
Baby lettuces, carrots, cucumbers, tomato, radish, chickpeas, green beans… $6/11
Dressings – balsamic, ranch, creamy gorgonzola, apple maple vinaigrette, pomegranate
Caesar
Little gem romaine, house made dressing, parmesan reggiano, Spanish anchovies upon request… $6/12
Harvest
Romaine, local apples, acorn squash, craisins, NYS cheddar, candied walnuts, maple vinaigrette… $14
Roasted Beet
Baby lettuces, local goat cheese, fresh orange, hazelnuts, pomegranate vinaigrette (vt, gf)… $15
Handhelds
(served with French fries, potato chips or side salad)
(gluten free bun available upon request)
Angus Steak Burger
American cheese, BBQ bacon, lettuce, onion, brioche bun, side of smoked ketchup… $18
Turkey Burger
Herb stuffing, turkey gravy, cranberry sauce, brioche bun, sweet potato fries and honey… $17
Sirloin Cheesesteak
Shaved beef, provolone, American, sautéed onions, garlic mayo on French bread… $18
Grilled Chicken Breast
Avocado green goddess, prosciutto, provolone, roasted peppers, brioche bun …. $17
Chickpea Quinoa Burger
Feta, fig jam, Brussel leaves, tahini dressing, pressed French bread… $15
Mains
Angus New York Strip Steak
House cut fries, truffle mushroom pan roast, shallot gorgonzola sauce… $28
Braised Beef Short Rib
Whipped potatoes, butternut, green beans, horseradish and bordelaise… $25
Heritage Pork Chop
Bourbon apple glaze, whipped potatoes, house applesauce, pancetta, Brussel sprouts… $26
Beef Ramen
Short rib, soba noodles, bone broth, shitake, farm vegetables, soft egg, petite eggrolls… $22
Grilled Faroe Island Salmon
Hazelnut brown butter, Celtic salt roasted fingerlings, apple cider Brussels… $25
Herb Roasted Half Chicken
Rosemary potatoes, green beans, Roman artichoke, grilled lemon, natural jus… $22
House Made Bucatini
San Marzano marinara, Nana's meatballs, parmesan reggiano, Italian parsley, bread… $20
Kids Menu
Ages 10 and under only  $11
Chicken Tenders & Fries (df)
Grilled Cheese & Tomato soup (vt)
Shells & Cheese (vt)
Cheeseburger & Fries
Fried Shrimp & Fries (df)
House made Desserts $9
Warm Dutch Apple Pie
With vanilla bean ice cream & NYS maple syrup
Pumpkin Cheesecake
With maple candied Marcona almonds
Italian Chocolate Almond Cake
Fresh raspberry sauce
Menu subject to change.
(v) vegan /(vt) vegetarian /(gf) gluten free /(df) dairy free