Keuka Breeze Restaurant & Bar
Sit back and enjoy the breeze.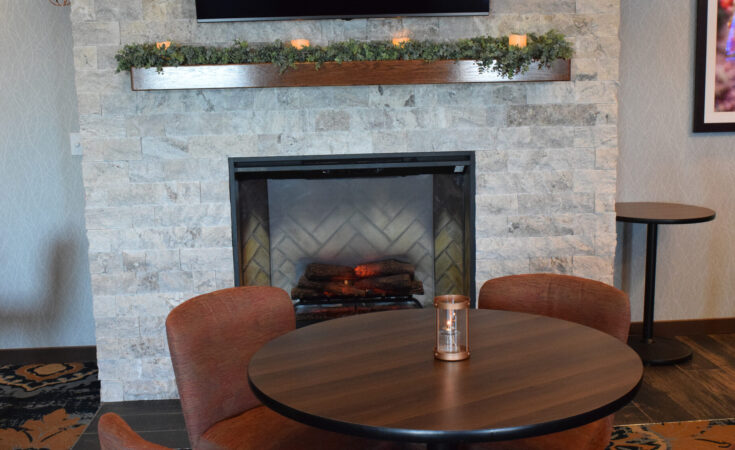 The Keuka Breeze Restaurant & Bar, located at the Hampton Inn by Hilton, Penn Yan, serves burgers, sandwiches, salads, and our signature cocktail, The Keuka Breeze. Take in the view of Keuka Lake from our elegant bar or enjoy the lake breeze from our rooftop patio seating.
Our full restaurant menu was created by our talented Executive Chef, and includes appetizers and desserts.
Beverage menu includes Finger Lakes wine and local craft beers. Family-friendly.
Keuka Breeze Menu
Starters
Finger Lakes Farmstead Cheese & Charcuterie
Lake Effect cheddar, Lively Run goat cheese, Cayuga bleu, sopressata, prosciutto, fig jam, pickles, Morello cherries, Marcona almonds, baguette, or gluten free crackers…$24
Mediterranean Hummus
marinated vegetables, olive salad, and grilled naan (add feta $3) (v, df)….$12

Burrata
heirloom tomato panzanella, watermelon, aged balsamic, first press olive oil (vt, gf)….$15
IPA Beer Battered Onion Rings
horseradish & chipotle sauces (vt)…$19
Chicken Wings
Buffalo, blackberry BBQ or Inner Beauty Hot, creamy gorgonzola, celery…$14

Crab Claw Au Gratin
fontina, butter cracker crust, house made tortilla chips…$16
Steamed Canadian Mussels
coconut ginger lime broth, scallions, cilantro (gf)….$15
Cornmeal Fried Oysters
Old Bay cole slaw, remoulade….$17
Seasonal Soup of the Day…Market Price
Salads
Farmstand
artisan lettuces, green beans, radish, carrot, tomato, cucumber, sunflower seeds (v, gf, df)…Side Salad $6 Dinner portion $11
Dressings – avocado green goddess, creamy gorgonzola, herb buttermilk or balsamic vinaigrette
Lake Salad
arugula, cherries, candied walnuts, gorgonzola, and port wine vinaigrette (vt, gf)…$15
Green Goddess
romaine, heirloom tomatoes, radish, local goat cheese, red onion, avocado green goddess (gf, vt)…$15
Organic Quinoa Bowl
mango, sweet potato, avocado, jerk roasted garbanzo, radish, almonds, citrus vinaigrette (v, gf, df)…$17
Add to any salad: chicken $7 / salmon $10 / shrimp $12 / avacado $4
Handhelds
(gluten free roll add $1) served with French fries or side salad*

Angus Steak Burger
American cheese, bbq bacon, LTO, house pickles, brioche bun…$18
Jacks Burger
Angus steak burger, chorizo, Monterey jack, roasted green chiles, brioche bun…$18
Buttermilk Fried Chicken
chipotle lime aioli, house pickles, Old Bay cole slaw, brioche bun *grilled chicken available (add cheese $2)…$17
Sweet Potato & Garbanzo Burger
teriyaki glaze, pickled red onion, pineapple salsa, brioche bun (v, gf, df)….$14
Grilled Fish Tacos
mahi mahi, cabbage slaw, avocado, Pico de Gallo, chipotle lime aioli, fresh jalapeno (df) *substitute chicken or beef…$16
Mains
Ravioli
broccoli, sundried tomatoes, parmesan reggiano cream *substitute marinara sauce (vt)…$19
Fresh Tagliatelle Pasta
heirloom tomatoes, arugula, zucchini, fresh basil, garlic, feta cheese, olive oil breadcrumbs (vt)…$22
Seafood Bianco
bucatini pasta, clams, shrimp, bay scallops, garlic, white wine, roasted tomato, arugula, parmesan reggiano…$28
Seared Faroe Island Salmon & Shrimp
coconut milk rice, citrus beurre blanc, pea shoots (gf)…$26
Grilled Chicken Thighs
grilled vegetables, fingerlings, blackberry BBQ, honey butter cornbread…$20
Grilled Ribeye
14 oz., parmesan whipped potatoes, sautéed spinach, cremini mushrooms, red wine (gf)…$34
Heritage Pork Chop
prosciutto & fontina stuffed, whipped potatoes, green beans, port wine sauce (gf)…$26
Kids Menu
Ages 10 and under only
Chicken Tenders & Fries (df)…$10
Grilled Cheese & Tomato soup (vt)…$10
Shells & Cheese (vt)…$10
Cheeseburger & Fries …$10
Popcorn Shrimp & Fries (df)…$11
Sides
Parmesan fries with truffle aioli / sautee green beans / Parmesan whipped potatoes / grilled market vegetables / fingerling potatoes…$9
Housemade Desserts
Strawberry Shortcake warm honey biscuit, whipped cream. (vt)…$9
Key Lime Cheesecake graham cracker crust, raspberry sauce (vt)…$9
Chocolate Cabernet Torte gingersnap crust, raspberry sauce, whipped cream (vt)…$9
Premium Coffee or Vanilla Ice cream (hot fudge add $2) (vt, gf)…$6
Mango or Raspberry Sorbet (vt, df, gf)…$7
All to go orders at an additional $2 per order.
(v) vegan /(vt) vegetarian /(gf) gluten free /(df) dairy free